HEY!

GUESS WHO'S ON THE AIR and WHERE THEY ARE??
Setting up Audio Alerts in Logger32
Search keywords: Logger32, logging, logbook, good logbook, audio alert
NOTE
:
This article was originally written for, and did appear in the Tulsa Amateur Radio Club Newsletter. It applies to the logging program called, Logger32. What's that? You're not using Logger32? You read this and sadly say to yourself, "Gosh, I wish I could use that feature but I don't have that program." Chin up, Bucky --- there's still hope for you. At the end of this article, I'll provide instructions for you getting your very own copy of the program......... and it won't cost you a penny! Interested? Read on.................
There's a neat feature for Logger32 users to help you if you're looking for a particular station to appear on the Cluster (or several stations, for that matter). For instance, you've heard that a DXpedition is imminent and you're just waiting for them to appear on the air but you're not sure where to listen. You're a perfect candidate for this feature.
First, you should decide what .wav file you want to use, i.e., what message you want your computer to play to tell you when that station appears in the Cluster. You can use existing .wav files (and there are jillions out there on the Internet) or you can easily create your own using the program "Sound Recorder" found in just about any recent version of Windows under "Accessories|Entertainment" You only need to create the sound or sounds, save the file as a .wav file and you're ready to go.
For my example here, I wanted to know every time K5D in Desecheo Island came up. I could then check the Cluster via the "DX Spots" window, which is an integral part of Logger32. I used a file called DX.wav that sends the letters "DX" in CW (dah-di-dit, dah-di-di-dah). If you want the file I'm using, I've uploaded it to my website at: http://www.hayseed.net/~jpk5lad/download/ and right-click on DX.wav and choose "Save link as.."
or
I placed the DX.wav file I was using in my Logger32/WAV files folder but it can be located anywhere that you want it, even right in with all the regular L32 files in C:\Program Files\Logger32\. I happen to store all of my .wav files for Logger32 in that one folder since I sometimes change them and they're easier to find if they're in their own folder.
Then I set up the indicator by right-clicking on the DX Spots window (see picture below) and choosing Setup.

I choose "Audio alerts|Enable audio alerts" which brings me to the larger window titled "DX Spot Audio Alert setup"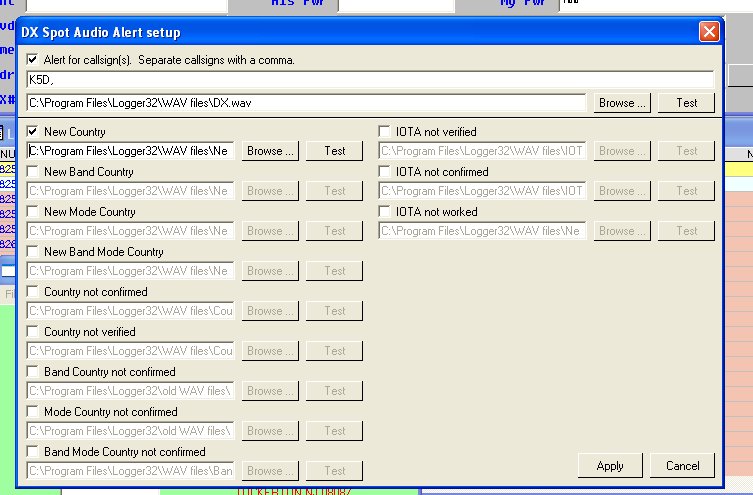 At the top left of that window you'll see a box to check labeled, "Alert for callsign(s). Separate callsigns with a comma." You can place a single call or a whole string of calls you're searching for on that line, each separated by a comma, but Logger32 will only play one message (.wav file). As a (poor) example, if you were to place your wife's call, your mistress' call, and those of all the calls of women with which you're currently having illicit affairs, it will only play one message, regardless of which call has popped up. I guess it could say, "Here she is" but you still wouldn't know which one it was. Probably a better message would be, "Hey, boy........ you in a heap of trouble....."
Once you have the call or calls on the top line, come down to the second line and click on Browse... If you've placed the file to play in the normal (?) --- (perhaps I should say regular or typical) --- folder you can browse to C:\Program Files\Logger32 and click on the wave file to play when that call (or those calls) come in.
Click on the "Apply" box and you're ready to go. Now, every time someone (anywhere in the world) places that call, or one from the string of calls, on the Cluster (assuming that your computer's sound card is installed, turned on, and the audio is not muted) your computer will announce your message. In my case, the Desecheo DXpedition is on for another 4 days (as I write this), where LOTS of hams are trying to work the #7 most-wanted DX location in the world, so the Cluster is buzzing with the K5D call and I'm hearing DX in CW, sometimes at a constant clip.
I guess I could go ahead and set up one of Logger32's other features, which is called, "Filter SH/DX/XX xxxx messages for dupes" and then only one entry per station per band triggers the wave file. Naaaaaaa, I like to hear that CW message coming in telling me there's lots of DX going on. After all, no fisherman would wear a blindfold because there were just too many fish out there jumping out of the water just begging for him to catch them.
It's as easy as that. This is just one of the myriad of things built into Logger32 to make your hamming experience more enjoyable and easier. Personally, I'm not sure if this is a "bell" or a "whistle" but Logger32 is jam-packed with many "bells and whistles."
BTW - If you're not using Logger32 yet, it's still available and it's still FREE. It's still just about the best computerized logging program around and it only continues to get better and better. It's available for download at: www.logger32.net
FREE!!!??? Yeah, it's kinda our own Economic Stimulus Package but more practical and effective.
Jim - K5LAD
=============================================================

Email to: k5lad@arrl.net
Created March 9, 2009
Updated 03/12/09 01:31 PM
Page visited 236 times
Click to return to Home Page